RMKM works in Ajmer, Beawar, Bikanar, Churu, Jhunjhunu and Nagaur districts of Rajasthan, India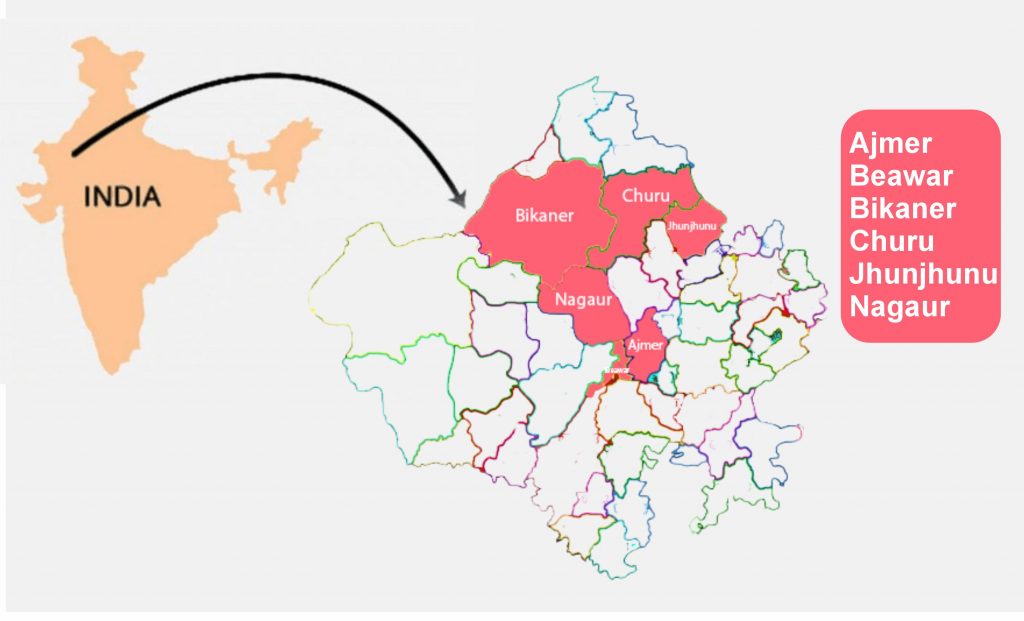 Surrounded by the Aravalli Hills, Ajmer is the most famous of all Muslim pilgrim destinations in India, renowned for the holy dargah of Sufi saint Khwaja Moinuddin Chishti as well as the holy lake of Pushkar just 18 km away.
However, though high up on the global tourist map, Ajmer lags behind in human development indicators. Sir Diggs La Touche, who made the first regular settlement of Ajmer-Merwara in 1874, had remarked that 'Ajmer-Merwara can never rely on two good harvests in succession'. Famines which return to haunt this beautiful province of the largest state in India, Rajasthan, distinguish it from all other provinces in the country. There is no other district or province in the country where famines occur at such frequent intervals.
The failure of crops and lack of water resources has led to the disintegration of traditional livelihood patterns. Amongst the vulnerable populations, women, especially pregnant and lactating mothers, old and infirm people, the destitute and children, specially abled, infants and newborn babies are the most severely affected, leading to high mortality rates, migration, destitution and poor health and environmental conditions.
RMKM has focussed its attentions primarily in Ajmer & Nagaur district, with some initiatives spilling into Nagaur district as well. The organisation's operational area comprises 250 villages of these districts. Apart from this, RMKM also works in the urban and peri-urban areas of Ajmer, Beawar and Pushkar cities.