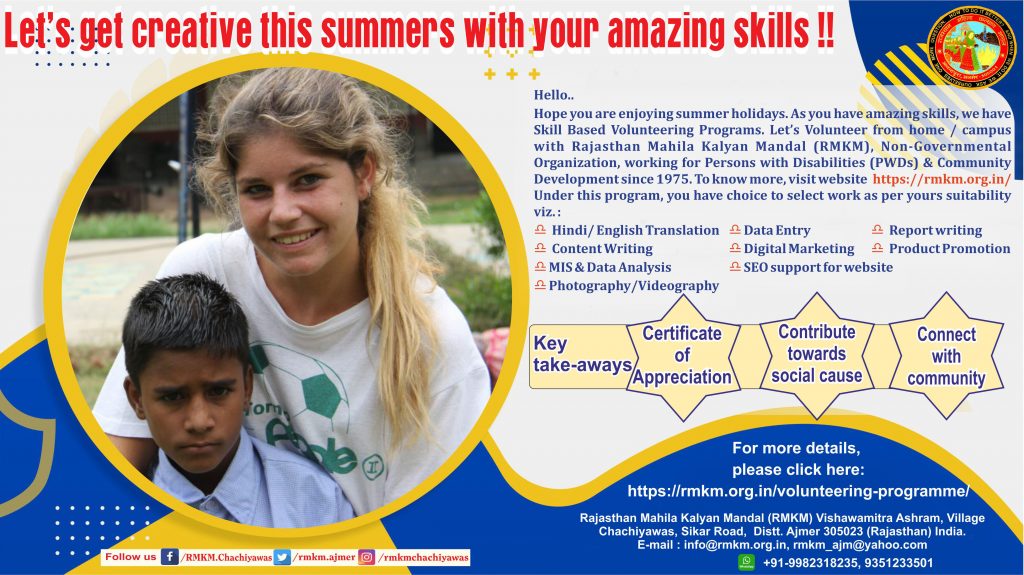 RMKM welcomes you to associates with us, contribute virtually in our programs/ initiatives and leverage your skills, find your own unique way to become a part of this credible organization. Our volunteering program can be classified as :
Skills Sharing : Skilled volunteers can help us on a wide variety of projects from creating marketing materials to program development, from capacity building of staff and beneficiary training. People trained in care-giving can also help. There is a requirement to match every skill!
Program Enrichment : If you are looking to drive and achieve quick and tangible results, you can get involved in short term Community Based Programs, Livelihood programs for rural women, lecture as Guest faculty in Human Resource Development programs in Ajmer District. Accompany our staff to run awareness and training programmes, learning and assessment camps at various locations. Create awareness among the community regarding available government schemes for persons with disability and sharing the importance & benefits. Support in Liasoning with potential employers for the placements of Persons With Disability.
Event Magnifier : RMKM conducts several events during the year with children, trainees, staff, parents and persons in the community. Volunteers can participate, plan and manage events, photograph and document them or mobilize resources.
Other opportunities:
TEACH STUDENTS THROUGH CLASSES (either online or in school campus) :
Teaching requires knowledge of the subject as well as patience and affection for the children, particularly if they are Children With Special needs as our schools have inclusive setup.
TEACH TRAINEES IN OUR VOCATIONAL TRAINING CENTRE (either online or in school campus):
You can volunteer to teach formal language communication & soft skills to our trainees above age 15 years in vocational training centre. The trainees are mostly from small towns or rural backgrounds and need language skills and personality development training to help them adapt to the general work culture.
Guidance in IT skills ranging from basic office applications to graphic design is also needed.
OTHER AREAS WHERE YOU CAN CONTRIBUTE
Online Counsel students, staff, parents and persons in the community.
Assist in Co-ordinate and manage community programs along with our staff and ensure deliverables as per plan.
Create visibility and participate in fundraising activities. Support us as we work on marketing plans, communication packages and events. Support in fundraising and mobilize resources through your network and CSR.
Document projects – work on process manuals, project reports, success stories, newsletters etc.
For more queries, feel free to mail us at rmkm_ajm@yahoo.com
To enroll in this program, please fill the form below: https://forms.gle/kRd6jpHgBeyUQfTS7
Volunteer Feedback's :
1) This experience gave me my first glimpse of the "real world." I learned how important and powerful face-to-face interaction can be and how helping them understand the importance of food can change their lives. This was a difficult and stressful job that required all of my energy and time, but all of the stress was well worth the fruitful outcome that I was able to observe and experience. This internship was a valuable one because it taught me how to work with a wide range of people in a wide range of situations. It would have been impossible if I hadn't worked with such helpful and cooperative people. Ms. Radhika Sharma, Student of M.Sc PHN, M.S.University Baroda
2) My internship experience has been engaging. I thought there would be problems communicating, but everyone I worked with was clear and well spoken. The quality of my work and how I went about completing my project was entirely a team work. I had a high degree of freedom when it came to the quality of my work. During my 1 month I was involved in researching, teaching and communicating. Through this internship I have learned many skills. I have improved my ability to research and answer questions. I have improved my ability to organize content. I have improved my ability to give presentations. I have also learned how to be self-motivated and manage my time and how to be patient while working. My favorite memory from the internship has been being with differently abled students with them i have learned a lot. Kshama ma'am was very obliging and Anurag sir was very copperative throughout the internship. It has been a very enjoyable and a rewarding experience. Ms. Karuna Rajpurohit, Student of MSW CuRaj
3) I worked in RMKM that enhanced my learning experience. It is the first time that I worked in rural community and the practical understanding that I received from this organisation definitely going to help me in my career. I am fortunate that I got the opportunity to work here. Ms. Mohd.Saquib MSW,Intern Delhi school of Social work
4) I interned at RMKM, focusing on their 'DAKSHA' subdivision back in Dec 2021. RMKM 's 'DAKSHA' wing provides empowerment programs for the disabled around Ajmer.We got all the materials, information we needed on time without any questions. I am thankful that I got to do my internship with RMKM where not only I could express myself freely but also imbibe myself in humility. Before joining, I had very little idea of what an NGO is like and how it operates. But after my internship, I got a sense that there are still selfless people who genuinely want to do good for humanity and there is still hope for the hopeless. Mr. Somdutta Nath, PGPM, SPJIMR Mumbai
5) My Internship experience in one word I would say is "Amazing" as it provided me a clear picture of working organization at grass root level. Being student of P.G in social work I was given task specifically related to Livelihood highlighting analysis of the Household Survey data on access to various social security schemes of 21,000 households in Ajmer and preparing a final Base Line Survey report. Also for generating awareness through designing booklets for Palanhar Yojana and MGNREGA and posters on COVID vaccination
The internship with RMKM was truly awesome and of worth value for it has given me an insight to read between the lines either relating to rural chunk or Divyangjan.Hats Off to RMKM for working meticulously at grass root level and rendering services and thereby reaching the unreached. Mr. Piyush Poddar, MSW Student, Delhi School of Social Work