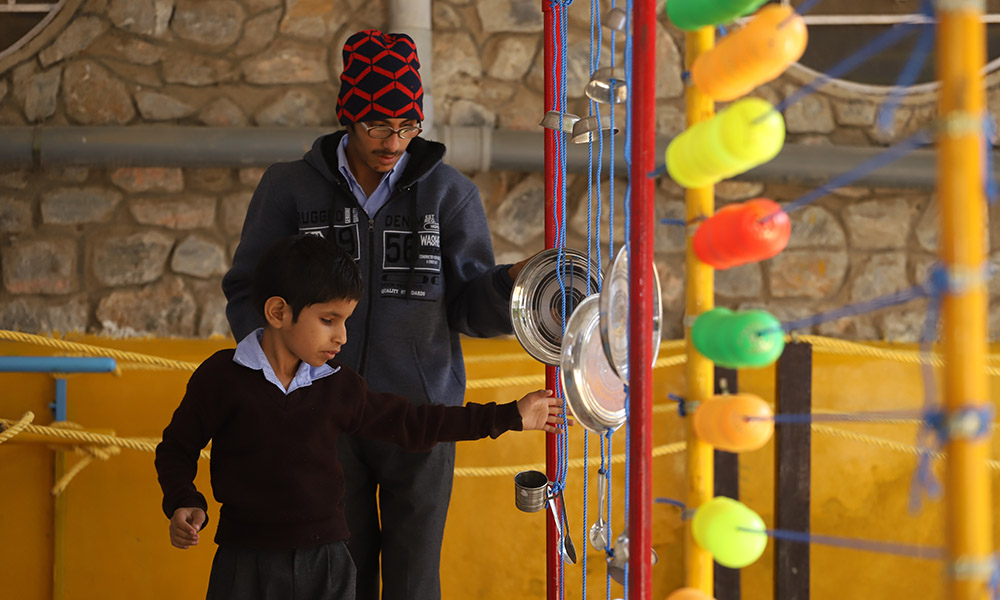 In its mission to support the Government of India's goal of 'Education for All', RMKM, since 1988, has addressed the needs of children with disabilities through special education, especially those with intellectual disabilities. RMKM believes that Inclusive Education is the best way for the development of both CWSN and Normal children; RMKM runs two inclusive schools for Children with Special Needs (CWSN) and Normal children 1-Sanjay Inclusive School at Beawar ; 2-Minu Manovikas Mandir Inclusive School at Chachiyawas in Ajmer and two Day Care Centres 1- Ummeed Centre, Pushkar 2- Udaan, Day Care Centre Rawatbhata, (Chittorgarh) orgnaization also runs Disha-Minu  Early Intervention Centre, Ajmer In total, RMKM is providing direct services to more then 1900 CWSNs.
(I) Pahala Kadam
'RMKM's 25 years of experience working in the field of disability has culminated in the programme Pahla Kadam, launched in the year 2005. Partly as an outcome of established special schools and partly of the experience gained through SRTT supported projects and reviews, RMKM came to realise that a shift to a more 'inclusive' approach would benefit their focus group as well as other children – that is a system where children with disabilities and those without could study and interact together. The decision was informed by considerable research, theoretical and practical inputs and technical support. The outcome was a considerable long-term plan for 'reverse inclusion', or Pahala Kadam, meaning the first step towards inclusion in practice.
Read details on Pahala Kadam
(II) Education and Training Programme for Deprived Mentally Challenged Children (Minu Community Based Rehabilitation Program)
RMKM delivers home-based services for disabled children to 485 families in Ajmer and Beawar. Children who are unable to attend the day-care centre due to disability are linked to the Community Based Rehabilitation (CBR) Programme involving training and education. RMKM's services in the area of disability include speech therapy, physiotherapy, education and counselling and income generation activities within the community. Through the CBR programme RMKM's services reach over 194 children in Ajmer and 183 in Beawer city & Udaipur 108. Jan Vikas Samiti (JVS) and VIBHA are supporting the programme financially.
(III) Minu Residential and Respite Care Centre
For the rehabilitation of special children, informed therapies and special techniques play an important role. However, the lack of facilities in special schools and the scarcity of trained special educators compound the problems of a majority of special children, especially the mentally challenged, those with multiple disabilities, autism or cerebral palsy.Hence since January 2006, RMKM has been running the Minu Residential and Respite Care Center. This programme reaches out to disabled children in rural and other remote areas where special education and training facilities are not available. The Minu Residential Care Centre thus caters to a total of 22 children from all over Rajasthan and from adjoining states. The centre also provides residential facilities to those special children whose parents are unable to care for their child's disability and hence their social responsibilities as well. The aim of the respite programme is to provide temporary arrangements for prolonged home care of special children. Parents can now keep their children for one week, 15 days or for a month as per their requirements.
(IV) Disha-Minu Early Intervention Center
To identify special children in their early years and to prevent the birth of special children, pre-natal programmes, post-natal and natal awareness programmes are organised within the community. In this regard, RMKM liaisons with government as well as private hospitals in order to provide quality services to mentally challenged children from infancy as well as generate awareness among parents and communities regarding handling and precautionary measures. For early identification, regular contact is maintained with ASHAs, AWW and ANM. Children who are identified in their early years receive help early in their disability, which helps them in their cognitive and social development. Infants and toddlers who are suspected to be at-risk or who are at-risk of delayed development in the age group of 0-6 years are provided services of early intervention at Minu Early Intervention Center. These services, provided by a multi-disciplinary team of experts. To identify special children in their early years (0-6 years) and to prevent the birth of special children, awareness programmes are organized within the community.
(V) "Sparsh"- State Learning Center For Persons With Deafblindess
From April, 2017 RMKM si running this centre with the support of Sense International India. This centre is providing services to assist the identified children through comprehensive home based services and centre based services including functional and clinical assessment, eductional intervention, therapeutic services and nutritional services whereever required.
(VI) Promoting Community Based Rehabilitation (CBR) of Persons with Disabilities in Jhadol Block of Udaipur District
Organization started this program since December 2016 wtih the support of CBR Forum; Caritas India. In this program organization is working and providing services as per CBR Schedule (CBR Matrix)
(VII) Local Level Committee
RMKM act as a Member Secretary in this committee and provide legal guardianship for the CWSN. Through this committee RMKM organizes various awareness programme.
(VIII) Sports
RMKM organizes various district, zonal and national level olympics games for CWSNs in collaboration with Special Olympics, Bharat.